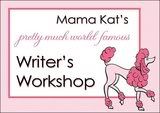 Happy Thursday everyone! I am participating in Mama Kat's Writer's Workshop today. I was so thrilled when I saw that she had a craft post as an option because I've been working on this one for quite some time.

I have a co-worker who is pregnant with her third child. She has two little boys who are around the same age as The Son and she is having a much-wanted girl this time. Another co-worker of mine thought it would be a great idea to have a little baby shower for her. I agreed and we had planned on having it at my home.

The Blizzard of 2010 decided to come on the same night as the scheduled party and... Surprise! We had to cancel. I was bummed, my co-workers were bummed but the guest(s) of honor had no idea because it was supposed to be a surprise party anyway. We rescheduled the party for the following Monday night after the mom-to-beX3 was finished teaching swim lessons. I didn't take pictures of the actual party because no one wants to be photographed at almost 9 months pregnant, let alone almost 9 months pregnant AND just completing a couple hours teaching swimming lessons in the pool. Trust me on this one.

I didn't know what to give as a gift and had always thought that diaper cakes were a little bit odd but now that I've been a new mother, I know that diapers are a wonderful gift because they are one of the items that you need right from the beginning and keep on needing. Presenting a case of diapers as a gift, isn't very creative or pretty so the diaper cake makes a cute way to present something that's a rather well, let's face it... unpleasant part of parenting. I had a friend at my shower give me a pack of diapers along with the books, "The Gas We Pass" and "Everyone Poops" which I thought was hilarious but I'm not sure this particular guest of honor has quite the same sense of humor as I do so I decided the diaper cake was a better option.

Making a diaper cake is actually pretty simple. I looked up a couple different varieties on line since I had never made one before, and decided on the kind that doesn't roll up each individual diaper. It came out beautifully and I'm sure was much quicker than the other kind, not to mention better on the diapers.

First, you need a round object to put in the center, this will NOT be staying there as it does in other diaper cake varieties so it really doesn't matter what it is, it's just there to hold your diapers up as you form them into a circle. I started with four diapers layered on top of each other kind of like steps and rested them against my center object.


You will need the following amount of diapers per layer, the first number is the diapers that will to around the outside and the second number will be the numbers you put into the middle:

Bottom = 40 and 8
Middle = 28 and 4
Top = 14 and 2
After you put all your diapers around the round object, tie them tightly with a piece of string or other thin ribbon. I used curling ribbon. I put the ribbon around, tied them part way, removed my round object and then tied them the rest of the way, there should be a smallish area still open in the center. After you tie them you can arrange them to make them more even.

After you like the way they are arranged, take the smaller amount of diapers and roll them up all together to stick them in the middle.

Do this for all three layers. One of the tutorials I saw suggested using a pizza pan to put the bottom layer on but honestly, I used a piece of cardboard from an old calendar that was much smaller than my bottom layer but worked just fine, I found that once everything was tied up, I didn't even need it.


The decorating was the fun part. I found this thick white ribbon and made that the base for all my decorations. The important thing to remember with this project is that you don't want to glue anything to the diapers OR to the objects with which you're decorating. I wrapped the ribbon around and used my hot glue gun to glue it to the other side of the ribbon. Remember, NO glue on the diapers. I am saying this twice because as obvious as it is, if you are a big glue gun user, you might get carried away and want to start gluing all over the place. I had to keep reminding myself not to do this. I used small pieces of ribbon and glued them to the white ribbon and then used them to tie various things on.

This little cutie was the thing that inspired the whole theme of my cake, I knew that my friend wouldn't have any little toys like her because, like I said, she has two boys. I loved the pink and brown colors and she's really soft. I got her at Wal-Mart, she's made for their store's Carter's brand. I tied her to the top layer and rested her so it looked like she was seated on the middle layer. So cute!

Here's another angle, I used some onesies, a few toys, some bibs and a little brush and comb set as my decorations along with some various pink and brown ribbon. I made a big bow for the top and secured it through the center and then just tied everything around to make it look cute. (Such technical directions, huh? ;) )

I did not attach the three layers to each other so the cake was easy to transport and just assemble when we got to the party. It was a big hit and made a really cute decoration on the table. I was very happy with it.


One final note, I read a lot of tutorials in order to come up with the way I was going to make this and noticed that a lot of sites comment that diapers are very absorbent to smells as well as liquid so if you're a smoker or cook a lot of "fragrant" types of food, it's a good idea to make your diaper cake away from these various odors. This wasn't an issue for us, but I can only imagine how a beautiful diaper cake could ruin a baby shower for lots of people if it reeked of cigarettes. Ewwwwww...
Well Friends, I hope you all have a lovely day. If you stopped by from Mama Kat, thanks! Leave me a comment and I'll be sure to stop by your blog too. If you want to see what we're doing today, click
here for yesterday's post
. Yes, it happened, or I should say, it's happening. Again. Stay warm people! Live healthy!