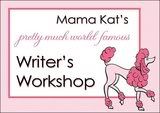 I haven't blogged in a few days because I've been busy and preoccupied with snow so today, when I realized it was Thursday, I hopped on over to Mama's Losin' It to see if there was a writing prompt that I could use to participate in her always fun Writer's Workshop. I've elected to do the Do's and Don'ts list and with help from The Husband and The Son, we've composed...
The Do's and Don'ts of how to Survive Two Major Snowstorms
Within a Week of Each Other!

Do...
Plan on spending lots of time indoors watching some favorite TV shows and playing Wii with your family.
Don't...
Expect anything you have planned to tape on your DVR to actually be the scheduled program, it will inevitably be "LATE BREAKING COVERAGE OF THE NOR'EASTER OF 2010" for hours on end.


Do...
take photographs of the storm in progress.
Don't...
call them "snowtographs."


Do...
let your dog out to play and frolic in the wintry wonderland as the snow accumulates.
Don't...
step in the "presents" he leaves WAY too close to your front step when you open the door.


Do...
make sure you have plenty of bread, milk and eggs in case you need lots and lots of french toast during the storm.
Don't...
forget you also need to make sure you have plenty of toilet paper.


Do...
Spend lots of time working on the computer and by working I mean facebooking and playing hidden object games.
Don't...
prevent The Husband from using the computer for two minutes to check if he actually has to go to work.


Do...
Take the time to make homemade whole wheat bread and delicious homemade Wheat Thins.
Don't...
eat them all in one day.


Do...
Pay $30 to have someone shovel and plow your driveway and front walk.
Don't..

.
hesitate to tell everyone you did it yourself "for exercise."


Do...
Enjoy being able to have snow days off from work and school and the gym...
Don't...
forget to spend the time with your family, playing in the snow, laughing and making great memories.

Happy Snow day to everyone who's having one! Stay warm! Have fun! Stay Healthy!